Introducing an online solution for short term visitors needing COVID-19 insurance for Thailand. Luma Thailand Pass meets the government requirements for the Certificate of Entry to Thailand with overall coverage of 100,000 USD including cover for Covid-19.
This plan has been approved by the Office of Insurance Thailand (OIC) and is ideal for short term visitors such as medical tourists, trade fair participants and foreign film crews who are expected to be approved for entry by Thailand's Centre for COVID-19 Situation Administration (CCSA) within the next few days. This plan is also suitable for tourists coming from surrounding countries such as Japan, China, South Korea, Singapore and Hong Kong. It will also be an excellent option for visitors from western countries as soon as travel bans are lifted.
Prices start at 4,500 THB for 3 months coverage (persons aged 1-75 years)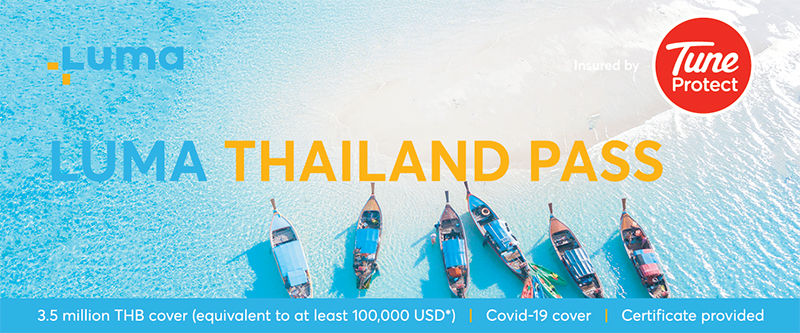 Is it possible to buy this insurance for COVID-19 online?
Absolutely buying this policy online is easy. Simply click the following link and follow the instructions. thaitravelinsurance.com
SOME IMPORTANT INFORMATION BEFORE PROCEEDING
Before proceeding you should know that this is travel Insurance for short term visitors to Thailand. It has been designed for visitors who have no intention of extending their stay beyond the length of their term visa.
Like most other travel insurance policies this Insurance is based on pay and claim. Should you seek treatment in a hospital – you will need to pay all hospitals bills yourself – then claim back later when you return to your home country.
While the Luma Travel Pass includes coverage for COVID-19, accidents, and other illnesses it does NOT provide cover for motorcycle accidents or room and board in a private hospital over 10.000 THB/day. The plan is also restricted to persons aged 1 – 75 years and is non-extendable while you remain in Thailand.
If you have no intention of extending your stay and believe the Luma Travel Pass is a suitable plan for your situation then follow this link for instructions on how to obtain your travel pass. You are advised to read the terms and conditions contained on the website link carefully. While the Luma Thailand Travel Pass is a great option for many short term visitors there are limitations on refunds and other parts of the policy which do not apply to full medical insurance plans.
If you are a foreigner living or working in Thailand or are returning to the kingdom for work on a non-immigrant "B" visa, or on any kind of renewable non-mmigrant "O" marriage or retirement visa then you are advised to purchase full medical insurance through an approved provider. Travel Insurance should be an addition to coverage not an alternative to a full comprehensive medical plan.
Thai Expat Health offers insurance from reputable companies that offer superior levels of customer service and claims support. In most cases, your insurance application can be approved in less than 7-10 days and coverage can begin as soon as payment is received.
Contact us if you need additional information or have any further questions regarding full medical insurance. thaiexpathealth.com

Links
https://www.nationthailand.com/news/30391749 – Four types of foreigners to be allowed to enter Thailand: CCSA