Three of the most common questions received from foreigners over the past few weeks are:
When can I fly back to Thailand (mainly from retirees)?
How can I get a certificate of health insurance to enter Thailand?
Can spouses of Thai citizens fly back into Thailand?
On 14th June 2020, the Ministry of Foreign Affairs confirmed that the next group to be allowed to enter Thailand are those married to Thai nationals and those who hold permanent residency (holding PR status). Spouses will soon be able to fly back under the same conditions as work permit holders (with 100,000 USD valid medical insurance and 14-day quarantine). The expected date is some time in July next month. While it is still not known when foreigners holding retirement visas will be permitted back into the kingdom it is likely that the requirement to produce a certificate showing a valid health insurance policy will remain for some time.
Thai Consulates in overseas countries are considering requests on a case by case nature. No-one can be sure how long these requirements will be in force but measures are being strictly enforced and unless you have an urgent need to return you are best advised to delay your travel plans until these restrictions are lifted. Many expats (including retirees) want to know when flights to Thailand will return to normal and what to do about the Health Insurance requirement for entry. Again, "wait and see" is most likely the best approach here.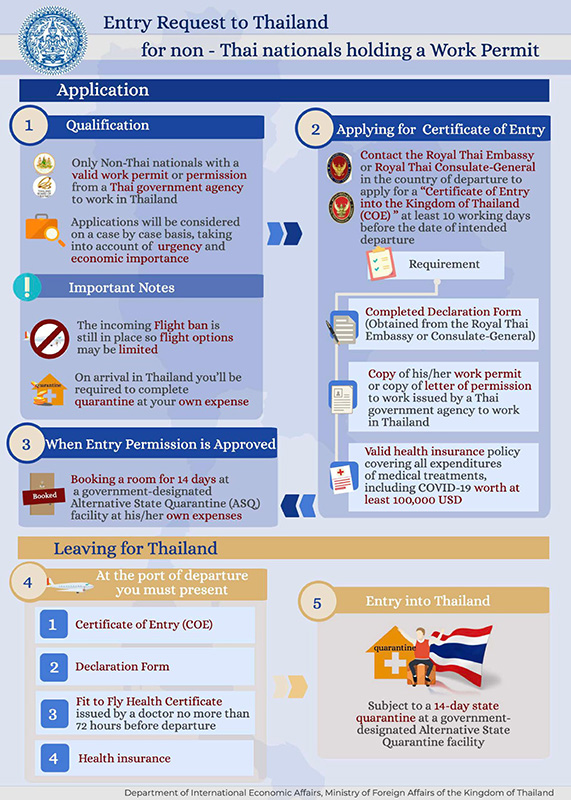 The above diagram is provided should you be married to a Thai national and/or have an urgent need to return. Your first point of call is to contact the Royal Thai Embassy / Consulate-General in your country to see if you qualify. Having met the criteria for entry you'll be invited to apply for a "Certificate of Entry". In order to obtain this certificate, you'll be asked to obtain a valid health insurance policy covering all medical expenses including COVID-19 and worth at least 100,000 USD. You'll also be able to go ahead and confirm your flight and book a room for the 14-day quarantine at a government-designated facility. The process is detailed quite well on the above diagram provided by the Thai Department of International Economic Affairs. It is also important to obtain a "Fit to Fly Health Certificate" signed by a doctor in your home country not more than 72 hours before your departure (confirming you are free from the coronavirus). Without a 100,000 USD health insurance policy which includes coverage for COVID-19 and the "Fit to Fly" Certificate you will be not be permitted to enter the kingdom.
The insurance requirement is slightly different for Thai's but the requirement to quarantine for 14 days after arrival in Thailand at a government-operated facility (at the traveler's expense) is the same for both Thai nationals and foreigners. Travelers need to be aware that the cost of this 14-day quarantine can be anywhere from 30,000 THB to 60,000 THB (depending on the facility you opt for) so you will need to factor this into the overall cost of your return.
Please be aware that the process of applying for and obtaining full medical insurance can take anywhere from 7-10 days. We are happy to advise all foreigners regardless of age but please note that persons under 65 years can generally obtain health insurance at a reasonable cost whereas the cost of health insurance for persons over 70 years can be prohibitively expensive. It is also worth mentioning that having cover simply for COVID-19 is insufficient. The coverage needs to be a 100,000 USD health insurance policy which includes coverage for the Coronavirus.
Please contact Thai Expat Club / Health if you have any questions or require a certificate of insurance to meet the Thai government's entry requirement (covering all medical expenses including COVID-19 and worth at least 100,000 USD).
Website: thaiexpathealth.com/
Additional Links:
https://www.bangkokpost.com/thailand/general/1882315/health-certificates-required-of-all-visitorshttps://www.thaiembassy.com/travel/can-you-enter-thailand-now-during-the-covid-19-crisis.php